---
AriZONA, Artists Respond to the Immigration Issue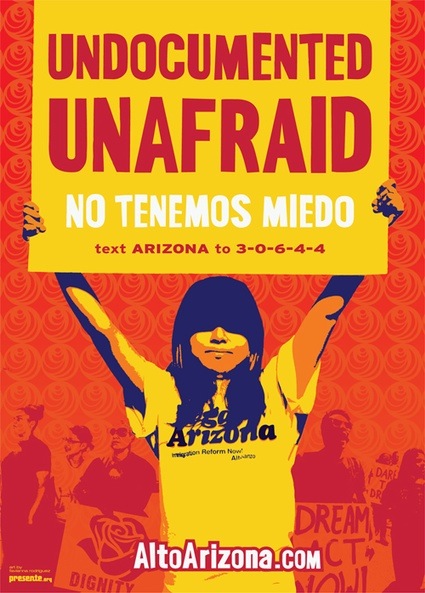 Poster by Favianna Rodrigez
AriZONA, Artists Respond to the Immigration Issue.
Following the approval of the new anti-immigrant law in Arizona, visual artist and curator Andrea Arroyo invited New York artists from diverse backgrounds to participate in this exhibition by creating new work or showing existing work expressing their views on the subject. Artists responded enthusiastically, submitting works that address an important contemporary subject in a variety of creative ways. The exhibit features works that range from overtly political to nearly abstract, created in drawing, painting, print, collage, photography, new media and sound. The aim of this exhibition is to contribute to the conversation on the critical issue of immigration and associated topics, such as human rights, social justice and globalization.
---
Scarecrow Hacking at the Border
Activists in Tucson, Arizona have been placing life-sized cutouts of Maricopa County's insidiously regressive anti-immigrant law enforcement officials around town on street corners and at intersections, including one of the chief of armed despicability himself, America's self-described "toughest sheriff" Joe Arpaio, and another of a Border Patrol agent, presumed to depict Nicholas Corbett, who just recently faced a hung trial for the second time after being charged with the murder of Mexican immigrant Francisco Dominguez in January of 2007.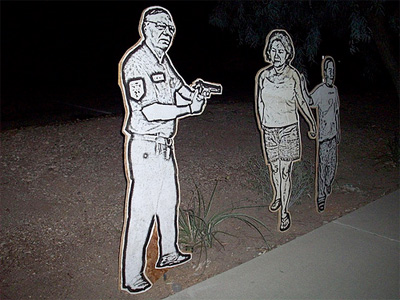 ---