---
Borderline is a multi-part project focusing on utilising artists' projects as a means of questioning how emerging European artists and designers are engaging with ideas around borders, nationhood, alternative methods of social organisation and collaboration.
The project also aims to explore the role of art in framing these ideas, particularly in relation to the current state of European politics and increasing social unease within many rapidly changing populations.
---
The New Breed of Documentary Photographers says: Dominic Bracco ll specializes in documenting the effects of Mexican and North American policies on the border region where he was raised.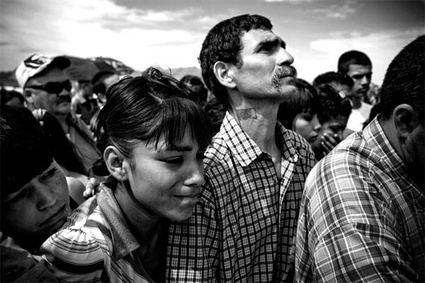 About the Photograph:
"I shot this image at the funeral of 15-year-old Sergio Adrian Hernandez Guereca, who was killed on June 7th by a Border Patrol agent in Ciudad Juarez on June 10, 2010. According to eyewitnesses the shooting occurred after Guereca helped guide several other teenagers into the United States when they were spotted and retreated back to Mexico. One of their group was detained by the U.S. Border Patrol and at least one of the boys threw a rock from the Mexican border into the United States toward the Border Patrol agent upon which he returned fire at the group, firing several rounds, and hitting Guereca in the head. The killing sparked much controversy over the use of force across international borders and sat uneasy in Ciudad Juarez, Mexico where over 1,000 killings have happened as a result of the insecurity caused by the war on drugs. There are still many questions unanswered about what exactly happened on June 7th near the international bridge as there are conflicting reports from the agent and eye witnesses."
---
Prefix Photo 21: Border Cultures. Available now!
Prefix Institute of Contemporary Art has released the 21st issue of Prefix Photo magazine. On its theme of 'Border Cultures,' editor Scott McLeod writes: 'Over time, ongoing exchanges and interactions between nations, peoples and economies create distinct border zones, such as those of the United States and Mexico, Algeria and France, the cities of Windsor/Detroit, and military and civilian zones throughout the world, among others. The artists represented in this issue draw on their personal histories and experiences with these border regions in order to create compelling, provocative works.'
Prefix Photo 21: Border Cultures.
Available Now!
Subscribe at http://www.prefix.ca
---