---

Curated by Niels Van Tomme, Director of Arts and Media at Provisions Learning Project in Washington, DC and organized with the Center for Art, Design and Visual Culture in Baltimore, Where Do We Migrate To? explores contemporary issues of migration as well as experiences of displacement and exile. Situating the contemporary individual in a world of advanced globalization, the artworks address how a multiplicity of migratory encounters demand an increasingly complex understanding of the human condition. As such, the exhibition allows multiple perspectives about its subject matter to unfold simultaneously, opening up a range of political, psychological, poetic, and pragmatic manifestations of the contemporary migrant experience.
Where Do We Migrate To?
March 17–April 30, 2011
1000 Hilltop Circle
Fine Arts Building
105 Baltimore, MD 21250.
---
Borderline is a multi-part project focusing on utilising artists' projects as a means of questioning how emerging European artists and designers are engaging with ideas around borders, nationhood, alternative methods of social organisation and collaboration.
The project also aims to explore the role of art in framing these ideas, particularly in relation to the current state of European politics and increasing social unease within many rapidly changing populations.
---
AriZONA, Artists Respond to the Immigration Issue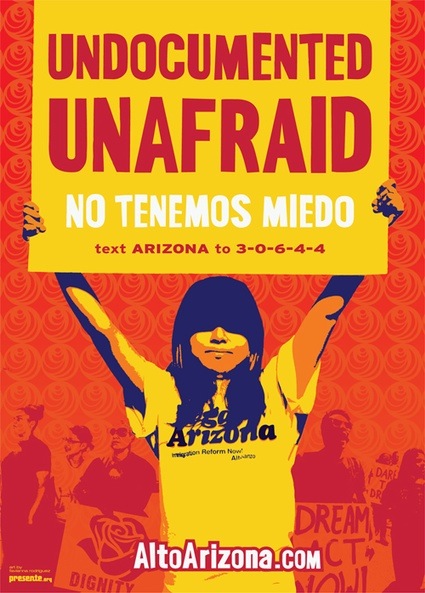 Poster by Favianna Rodrigez
AriZONA, Artists Respond to the Immigration Issue.
Following the approval of the new anti-immigrant law in Arizona, visual artist and curator Andrea Arroyo invited New York artists from diverse backgrounds to participate in this exhibition by creating new work or showing existing work expressing their views on the subject. Artists responded enthusiastically, submitting works that address an important contemporary subject in a variety of creative ways. The exhibit features works that range from overtly political to nearly abstract, created in drawing, painting, print, collage, photography, new media and sound. The aim of this exhibition is to contribute to the conversation on the critical issue of immigration and associated topics, such as human rights, social justice and globalization.
---
Photographer Daniel Rosenthal explains his photo: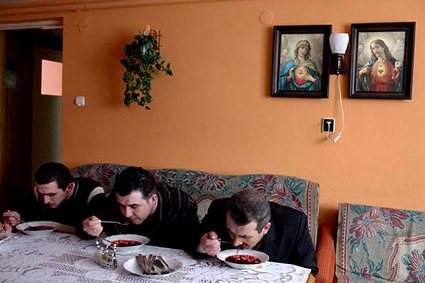 "This is a photograph I shot last year during an assignment for GEO Magazine on demographic changes in Europe due to migrant workers. Poland was the first part of the story. I arrived in the tiny Polish village of Plaszkowa on Easter Monday (the most important Polish feast day) during heavy snowfall to meet Marian Tarasek for the first time (49 years, on the right). It was the day before he had to travel back to Ireland where he found a job as a construction worker, one of the many thousand Polish migrant workers there. Marian was very shy and thoughtful and it was obvious that having to leave his loved ones for another month made him sad. We sat down in silence underneath the religious icons on the wall. Suddenly his sons Damian and Mateusz came along and Marians wife served the traditional Polish beetroot soup, that's when everything fell into place and the situation transformed into a biblical scene, embodying believe, humility and tradition mixed with everyday life."
---
The Culture of Rights/The Rights of Culture: Jenny Polak
Jenny Polak's digital drawing, Design for the Alien Within: The Vanity (2006) is one piece of a furniture series promoting "hypothetical hiding and dwelling places for people without immigration documents." Drawing on her personal experience of life as a resident alien, current events, and migratory family history, Polak permits border and immigration policies to shape her work, which ranges from architecture to cartography, and beyond.
---