---
Prefix Photo 21: Border Cultures. Available now!
Prefix Institute of Contemporary Art has released the 21st issue of Prefix Photo magazine. On its theme of 'Border Cultures,' editor Scott McLeod writes: 'Over time, ongoing exchanges and interactions between nations, peoples and economies create distinct border zones, such as those of the United States and Mexico, Algeria and France, the cities of Windsor/Detroit, and military and civilian zones throughout the world, among others. The artists represented in this issue draw on their personal histories and experiences with these border regions in order to create compelling, provocative works.'
Prefix Photo 21: Border Cultures.
Available Now!
Subscribe at http://www.prefix.ca
---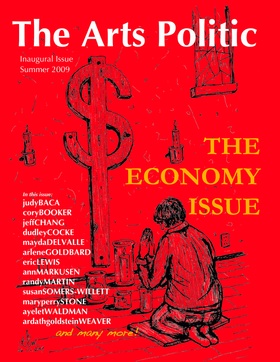 Inaugural issue of The Arts Politic, an independent print-and-online voice for creative and political thinking.
The first issue, The Economy Issue, includes articles, poetry and visual art by emerging and established artists, thinkers, and leaders.
---